Consider Pacman as one big metaphor.  The conflicts created in Arrested Development can thrive in Pacman.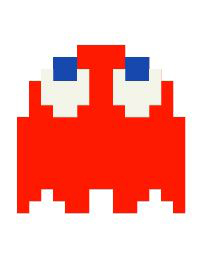 George Bluth definitely is Blinky.  He's clever, he's guilty, and he always screws Michael over in some new way.  Every season revealed some kind of crime that George left Michael to swallow.  Poor poor Michael.  Blinky never sleeps until he screws Pacman over.
Next of course is:
Lucille Bluth as Pinky.  She is often paired with Blinky and is described as the ghost who will ambush you.  Lucille is manipulative and will often try to trap Michael with guilt.  She can be known to work with George, or on her own.  Blinky and Pinky were definitely a match made in hell.
Lindsay as Inky.  Inky isn't really known for being smart, but he is known for being fickle.  Who could be more fickle than Lindsay Funke?  One day she wants a divorce, the next day she wants to make it work.  Inky occasionally goes after Pacman, just like Lindsay occasionally goes after Michael for money.
Then of course there is Tobias and Clyde.  Clyde has been described as the moron of the bunch because of how he wanders obliviously.  You could say he is oblivious to his surroundings and even walks into Pacman when he is blue.  There is no doubt Tobias is oblivious.  He consistently walks into his own traps.
And who could else could be Pacman but,
Michael Bluth.  The admirable head of the family who's trying to save all of the money for the good of the company.  He's consistently trying to get away from his family, but when he has a powerful revelation he comes back.  Sure the ghosts of his past often try to trap him, but he finds away to reprimand them.  Pacman just uses power pellets, but runs away just the same, trying to eat all the pellets before the ghosts use them for evil.  All Michael and Pacman ever wanted was a Ms. Pacman.