Since I just finished The Legend of Zelda:  Skyward Sword, I'm looking for new games to play.  I've always been a platformer kind of girl, and as of late I seem to be stuck on Nintendo.  Few games catch my eye, but there's a certain game developer that's caught all of my attention.
Double Fine is a game production studio that develops games for PC, Mac, Xbox, and PlayStation.  They've created intriguing and original games like Psychonauts and Costume Quest.  These guys are about to become my new favorites because of their quality games.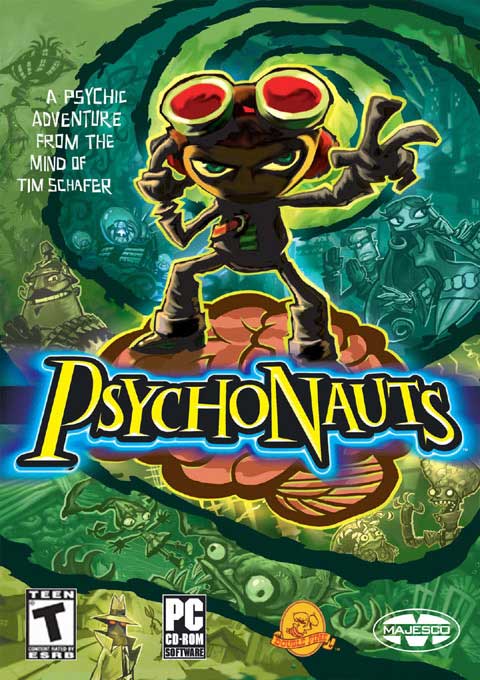 I just bought Psychonauts and played the first thirty minutes.  The artwork and dialogue remind me of a 90s cartoon like "Aaaaahh!! Real Monsters."  It's nostalgic yet fresh.  There's nothing more I love than a witty character in a video game.  Clever writing in video games isn't too common anymore and definitely needs to be appreciated more.  I'll probably end up doing a full review on it later, but the quirkiness of Tim Schafer (head of Double Fine Production Studio) lives on in his other games.
There's even a Kinect game from this company that puts you in retro video games, kind of like the game show "Legends of the Hidden Temple."  You can also pretend you're a fish and dance around.  It puts you in another reality, and it's actually you not an avatar.  You can also smash buildings, shoot fireworks, and play with lava.  It's great because now you don't have to pretend that the floor is lava, the Kinect will do that for you.  The game is called Happy Action Theater and it's available on Xbox Live for 800 Microsoft points.
The bad news about this company is that they've been struggling to put out games for financial reasons.  The good news is, they just raised $800,000 to create another video game.  It was all thanks to Kickstarter, who allowed for gamers to directly pay the company money to publish their own games.  No word on what game ill be released yet, but people are already talking about a sequel for Psychonauts.  Tim Schafer is leaning more towards a point and click game, but any game from this epic developer is fine.
If you want to see more of their artwork, just go to doublefine.com and check out their games.  They've even got games you can play on their website, along with a few comics.